Splitboard Clinic
Click here to order your custom splitboard!

Click here to register to build your board at our clinic
If you have not seen or heard about splitboarding yet, you might not get out much. Well you may get out, but you don't go out of bounds! Splitboarding is not a new thing, it has however been gaining a lot of popularity in recent years. This popularity has come from some really big names in the snowboard world discovering and utilizing splits to get to the goods.

A splitboard is simply a normal snowboard (preferably something meant for powder or all mountain riding) that is cut down the middle length wise to allow the board to be used as either skis or a snowboard. What this does is it allows the user to use the ski function coupled with climbing skins to climb up the mountain. Once at the top of your desired line, you then take the skins off, clip the board back together, and you get to enjoy the surfy feeling of shredding back down on your snowboard. Up until the splitboard was invented, snowboarders were at a huge disadvantage when trying to go out and ride non-lift accessed terrain. The splitboard leveled the field years ago, and now we boarders are able to get out to anything just as efficiently as skiers.
A quick explanation of DIY Splitboards thanks to our friends at BoardInsiders.com :
style="text-align: center;">
So now you have an idea of what the basics of a splitboard are, and you have started to get the itch to give this a try. We thought what better way to help get people out into the mountains under their own power, than to give them the tools and knowledge to build their own boards! Basically you provide your own board, splitboard kit from Voile or Karakorum (Any kit for this will due, and we leave this up to our students, if you would like some guidance, please shoot us an email), and $50 and we provide you with all the tools you need! We have been building boards for 4 years now and have learned through trial and error what works and what does not. So if you want to build your own splitboards, we have you covered! We also provide students with discounts on climbing skins and other gear to help get you setup for your first trip into the backcountry.
Here is how you should expect the Build Your Own Splitboard clinic to go!
Here is the line up of boards to split as well as one of our completed splitboads we brought in to show our students. Most bring their solid boards as well so they could setup their riding stance the same as what they use regularly. There are kits that allow for multiple stance angles, and we can add holes to allow for stance adjustment if you would like. However, this does add time and materials, so there may be a small added cost for this option.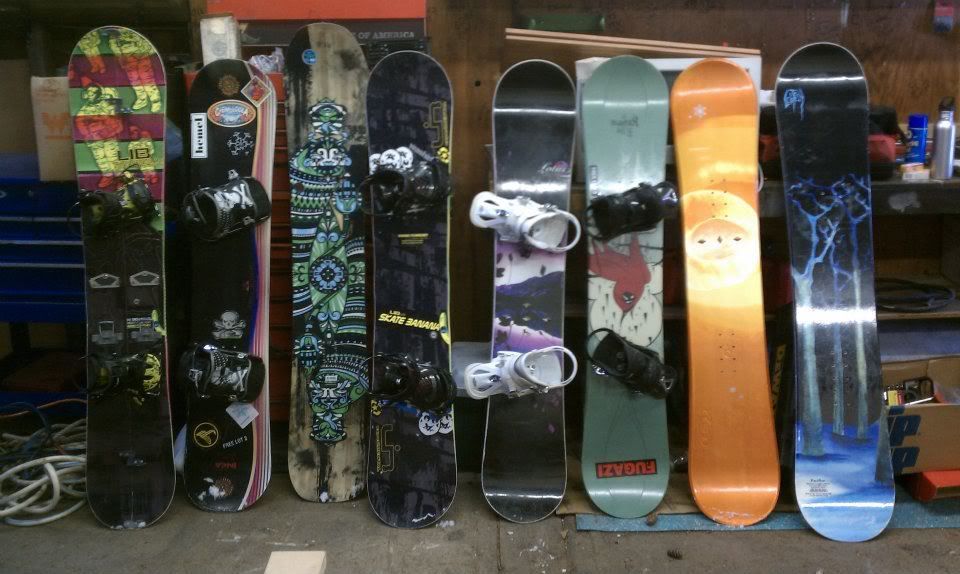 We provide you with all the tools needed to complete the job so you dont have to spend time tracking everything down! This is great for people who do not own table saws, drills, files, drill bits, etc. This clinic is really designed to help ANYONE build a board of their own!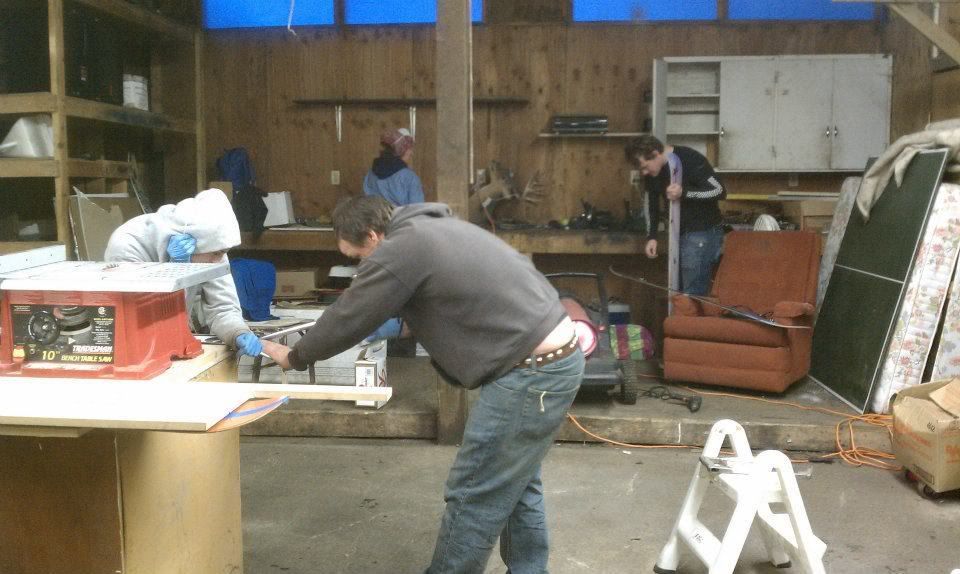 Here you can see the jig that we designed that bolts to ANY snowboard, this allows for a perfect cut right down the middle, it also helps to eliminate some of the guess work in lining everything up for the cut. We have used this jig on boards as small as 153 and as long as 163 with no issues. This also allows you to have confidence when you put your board up on the table saw, you know it will be straight!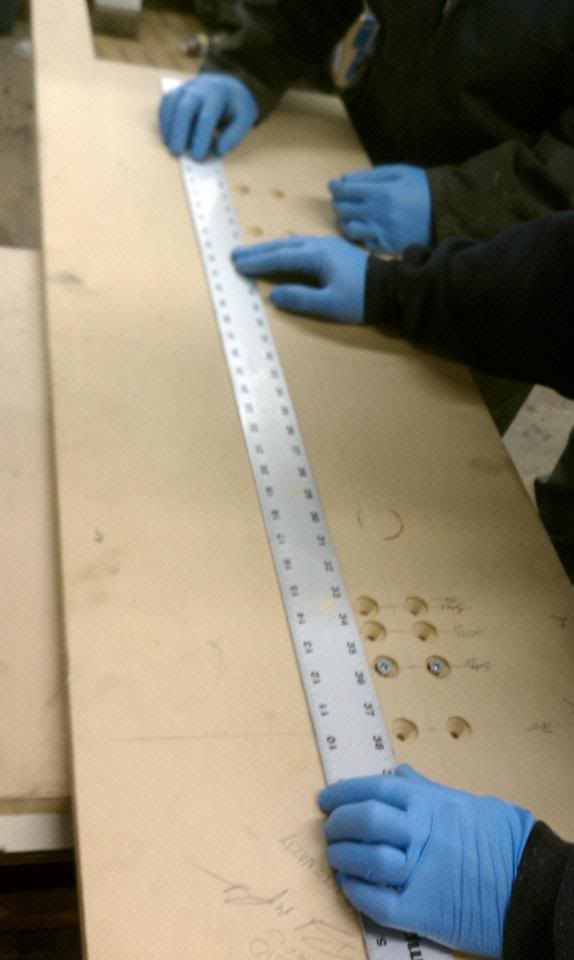 Measure twice cut once! Some of our students had very little or any experience using tools such as drills and table saws. This is the great part about the clinic, it requires no prior skills! Although having some experience does help, you can build a board that looks great and performs as well as a solid even if you have no woodworking or prior snowboard drilling experience!
Some students are a little nervous the first time, but this passes once the board hits the saw...mostly because at that point there is no turning back!! You can split nearly any snowboard that has a solid wood core. We urge our participants to purchase snowboards that are as new as possible, this
is due to the fact that some older (and generally cheaper) boards were made with various core materials such as foam or particle board. If you have a board already, we recommend you research the core of the board to be sure that splitting it will not cause the board to be rendered useless. If you are looking for a board to split, we also have some great options on our website!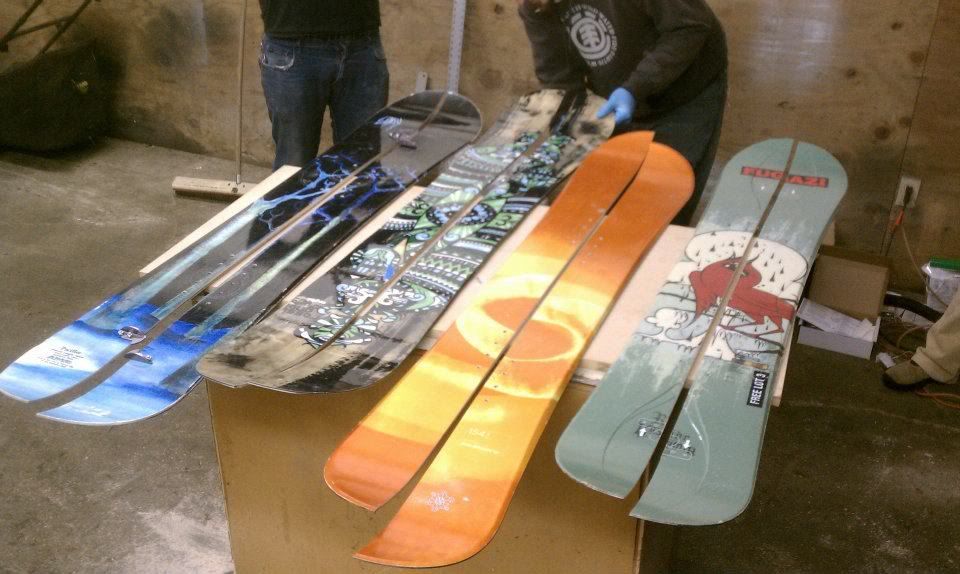 Once all the boards are cut, we help guide you through the process of installing your binding pucks, tip and tail clips, hooks and touring gear. You will have different options for using t-nuts, Snoli inserts or heli coils for different parts of the splitboard interface. We have the tools and products in stock and can accomidate almost any request or questions on mounting the hardware to the board.
At the end of the day, students boards will be about 80% complete. The reason for this is simple, sealing the inside edges of the board is a very time consuming process which take 9-12hrs on its own. We do not feel the need to have people in a clinic for this portion, or the final board assembly since it is not only very simple, but also very easy to explain in the class. For these reasons, we get the boards as complete as we can, and the students can then finish up the remaining tasks on their own time. We will answer all questions you have so you will have a full understanding of what you have left to do. We are also more than happy to help you with the final steps or even finish the boards for you! The best part of this clinic is it is open to whatever we need to do to help you get your board ready to ride!
Our happy students at the end of the day!
If you have any questions or would like to book your own clinic for yourself and some friends, feel free to register through our site or shoot us an email at info@Chair2BoardSports.com!